A Danish business meeting is just one element of the Danish decision-making process – which can be extensive, as the people involved seek consensus on whatever issue is being discussed. There's an old Danish saying that "A disagreement is a discussion that ended too soon."
So get to the meeting location precisely on time – or even a couple of minutes early – and be ready to say your piece. On some occasions, you should also be ready to be in it for the long haul.
One thing that sets apart Danish (or Nordic) meetings is that every single person, from the boss down to the student helper, will be having his or her say on the matter at hand.
There is no particular hierarchy or order in a meeting, usually no written agenda, and no requirement that any one particular person speaks first or speaks last.
The only thing that's a "must" is that you're well-enough researched in your part of the meeting to have an intelligent opinion, and that you express it directly and politely.
Well-considered and even provocative questions are okay too, as long as they relate to the topic at hand.
Disagreement is okay
One of the most difficult things for people from hierarchical cultures to learn is that it's perfectly okay to disagree with your Danish boss at these meetings, assuming you do so respectfully and have facts to back up your point of view.
In fact, your bosses will probably be angrier if you act like a yes-man and fail to point out obvious flaws in their arguments that might lead to a disastrous business decision. ("Why didn't you say anything?")
Danish children are brought up to challenge their parents and their teachers. In this anti-authoritarian culture, silent obedience buys you nothing.
Do Danish meetings have any purpose?
Final decisions are rarely made at a Danish business meeting: in fact, whatever gets decided at the meeting may be reversed the next day if someone gets a better idea or if new information comes in.
In fact, you may leave the meeting feeling you've accomplished nothing at all. But you have: you've been part of the consensus.
Hear all our How to Live in Denmark podcasts on Spotify and on Apple Podcasts (iTunes).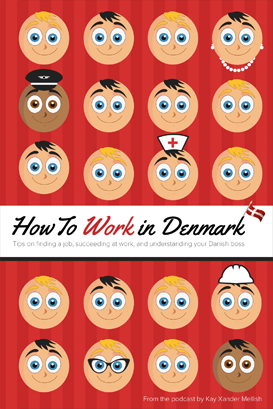 Get the How to Work in Denmark Book for more tips on finding a job in Denmark, succeeding at work, and understanding your Danish boss. It can be ordered via Amazon or Saxo.com or from any bookstore using the ISBN 978-743-000-80-8. Contact Kay to ask about bulk purchases, or visit our books site to find out how to get the eBook. You can also book a How to Work in Denmark event with Kay for your school, company, or professional organization.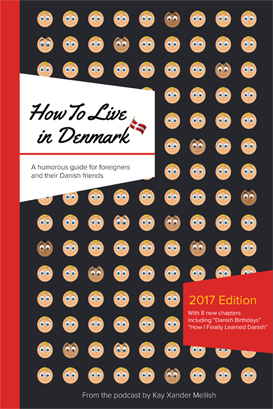 Want to read more? Try the How to Live in Denmark book, available in paperback or eBook editions, and in English, Chinese, and Arabic. If you represent a company or organization, you can also book Kay Xander Mellish to stage a How to Live in Denmark event tailored for you, including the popular How to Live in Denmark Game Show. Kay stages occasional free public events too. Follow our How to Live in Denmark Facebook page to keep informed.

Image mashup copyright Kay Xander Mellish 2021