I get a lot of mail at the How To Live in Denmark podcast, and some of it is from people who want to move to Denmark, but they're not sure what to do to make money once they get here. But, I do speak English, they say. Can I make money in Denmark just off of just speaking English?
Generally, no. No you can't. I mean, I do, but I was an experienced journalist before I got here. But English is not a rare commodity in Denmark.
Danish children start learning English when they're six years old. And because British and American TV shows and movies and are not dubbed, children are constantly hearing English even earlier. Danish adults often read novels in English, and by the time you get to university, pretty much all the high-level textbooks are in English. There's just no economic case for translating textbooks into a language that only 5.6 million people speak.
Danes love English
So, English is everywhere in Denmark. And Danes love English. When you come to Denmark, you'll find that shops and youth programs and rock bands have English names because the Danes think it sounds cool. Danes also like to tuck bits of English into their Danish speech, like 'Du fik et nyt job? Nice."
For some Danes, particularly younger Danes, the Danish language is seen as provincial, old-fashioned, kind of like those dusty little porcelain knick-knacks your grandparents keep around the house.

Hear all our How to Live in Denmark podcasts on Spotify and on Apple Podcasts (iTunes).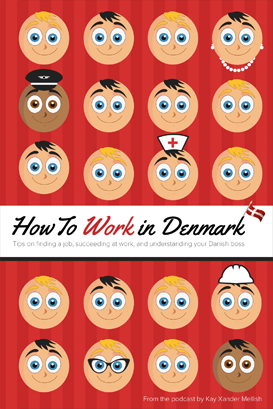 Get the How to Work in Denmark Book for more tips on finding a job in Denmark, succeeding at work, and understanding your Danish boss. It can be ordered via Amazon or Saxo.com or from any bookstore using the ISBN 978-743-000-80-8. Contact Kay to ask about bulk purchases, or visit our books site to find out how to get the eBook. You can also book a How to Work in Denmark event with Kay for your school, company, or professional organization.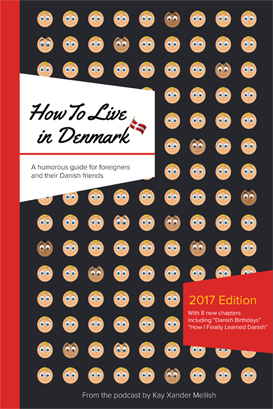 Want to read more? Try the How to Live in Denmark book, available in paperback or eBook editions, and in English, Chinese, and Arabic. If you represent a company or organization, you can also book Kay Xander Mellish to stage a How to Live in Denmark event tailored for you, including the popular How to Live in Denmark Game Show. Kay stages occasional free public events too. Follow our How to Live in Denmark Facebook page to keep informed.

Image mashup copyright Kay Xander Mellish 2021