I play a little game sometime when I look at Danish people. I imagine them as Vikings.
It's easy now that big beards are in fashion on young men. Sometimes on the metro I'll look up at the hipster guy playing with his iPhone next to me and imagine him wearing a big fur cloak. Maybe a rope belt, with a sword dangling from it.
I imagine him stepping off the boat in Newfoundland in the year 1000, freaking out the local American Indians.
Imagining Danish women as Vikings is a little harder. They don't usually have the long braids or wear the big golden brooches that Viking ladies used to fasten their dresses. They don't wear the headscarves that the married Viking women used to wear. Of course, you can still see plenty of headscarves in Denmark, but usually not on the Danes.
Anyway, the Danes love the Vikings, the same way the same way the French love the age of the Impressionists, and the British love the Second World War, and the Chinese love the 2008 Olympics. It was a time when their country was at the peak of power and influence.
If you go to the Denmark's National Museum in Copenhagen, you can spend hours looking at Viking handicrafts: lots of golden horns, and rune stones. Danish kids learn a lot about the Vikings at school – even in kindergarden, they make Viking shields, and Viking swords. There's various places around the country where the whole family can 'live like a Viking' for a week. That means Viking-era clothing, Viking-era food, and Viking-era plumbing.
Unsaid in all this is that Danish Vikings were not just fun guys who wore horned hats to soccer games. The Norse pagans were a gruesome people, by modern standards.

Hear all our How to Live in Denmark podcasts on Spotify and on Apple Podcasts (iTunes).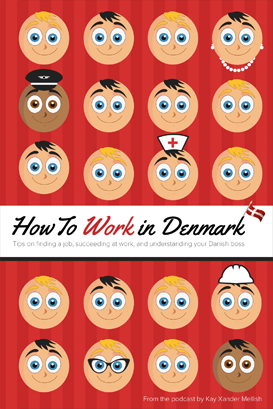 Get the How to Work in Denmark Book for more tips on finding a job in Denmark, succeeding at work, and understanding your Danish boss. It can be ordered via Amazon or Saxo.com or from any bookstore using the ISBN 978-743-000-80-8. Contact Kay to ask about bulk purchases, or visit our books site to find out how to get the eBook. You can also book a How to Work in Denmark event with Kay for your school, company, or professional organization.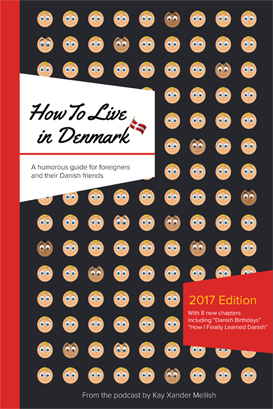 Want to read more? Try the How to Live in Denmark book, available in paperback or eBook editions, and in English, Chinese, and Arabic. If you represent a company or organization, you can also book Kay Xander Mellish to stage a How to Live in Denmark event tailored for you, including the popular How to Live in Denmark Game Show. Kay stages occasional free public events too. Follow our How to Live in Denmark Facebook page to keep informed.

Image mashup copyright Kay Xander Mellish 2021