I've been away from the podcast for a couple weeks. I've been on vacation in the USA. But I'm back now, and it only takes a few minutes after I arrive at Kastrup airport before something happens to destroy the relaxing effect of 2 weeks off and several thousand kroner spent on spas, hotels and tasty dinners.
The jolt back to reality usually happens at baggage claim, when one of my fellow fliers of the Danish persuasion bumps right into me at the baggage carousel without saying Excuse me, or Pardon, or Entshculdigung, or any of those other nice oops-I've-just-run-into-you phrases so common in the rest of the world. For Danes, the standard response after accidentally running into someone is a sullen grunt – HUMPH – along with a sour look of annoyance that you got in their way.
And if I don't get bumped into in the airport, there's bound to be a letter from the tax department waiting when I get home. If it's not the Danish tax department, as it usually is, it's the American tax department, as it was this time. I came home from my wonderful, relaxing vacation to a completely nonsensical letter from the IRS, written by a machine, and asking for 600 dollars.
But that's what it's like when you have a foot in two different countries. You have two different sets of bureaucracy hassling you. And when you go back to your country of origin, it's alarming sometimes to realize how Danish you are becoming.
I remember when I first came to Denmark and I thought – It's cute, their cars are so small! Now when I'm in the US, I think Why do they need such big cars?
Don't get me wrong – I still like going to the United States. Everything's in English! I don't have to struggle for the right Danish phrase to say anything.
I like the diversity of the people. I like the fact they're open and friendly and up for a chat, even if you don't know them. I like the diversity of the food – like good TexMex food, which you can never find in Denmark.
I love being able to shop in bigger stores, with more variety and cheaper prices, and sales assistants who actively want to help you buy things. This compares well to Danish customer service people, who are best known for greeting customers with a sullen grunt – HUMPH – along with a sour look of annoyance that you got in their way.

Hear all our How to Live in Denmark podcasts on Spotify and on Apple Podcasts (iTunes).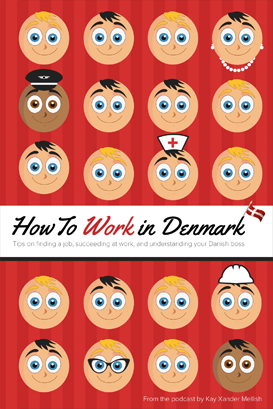 Get the How to Work in Denmark Book for more tips on finding a job in Denmark, succeeding at work, and understanding your Danish boss. It can be ordered via Amazon or Saxo.com or from any bookstore using the ISBN 978-743-000-80-8. Contact Kay to ask about bulk purchases, or visit our books site to find out how to get the eBook. You can also book a How to Work in Denmark event with Kay for your school, company, or professional organization.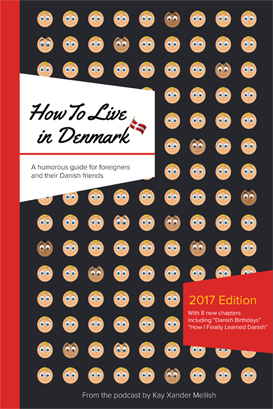 Want to read more? Try the How to Live in Denmark book, available in paperback or eBook editions, and in English, Chinese, and Arabic. If you represent a company or organization, you can also book Kay Xander Mellish to stage a How to Live in Denmark event tailored for you, including the popular How to Live in Denmark Game Show. Kay stages occasional free public events too. Follow our How to Live in Denmark Facebook page to keep informed.

Image mashup copyright Kay Xander Mellish 2021