"An American in Denmark" is a humorous after-dinner speech suitable for mixed groups of foreigners and Danes. Kay comes from the U.S. state of Wisconsin, where fourth or fifth generation Danes, Swedes, Norwegians and Finns are still proud of their heritage. What surprises did she encounter when she arrived in the 'real' Scandinavia?
How To Live in Denmark events are designed to make international employees feel more comfortable in Denmark, help them understand the Danish mindset, and give them something to chat about with their Danish colleagues besides just 'shop talk.'
A former staff member at Danske Bank, Carlsberg Breweries and Saxo Bank, Kay runs her own communications consulting business in Copenhagen, Denmark. She is behind the podcast series 'How to Live in Denmark' and is the author of the book 'How to Live in Denmark', available in English, Chinese and Arabic.
Book an event
If you represent a company or organization and would like to have Kay make a presentation at your location, contact Kay via this site's contact form for more information, or download a PDF flier about How to Live in Denmark events to share with friends and colleagues.
This event has previously been held for a DTU group in Tivoli.

Return to the How to Live in Denmark events page.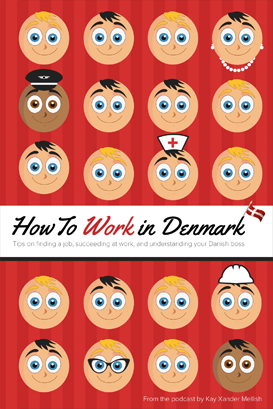 Working in Denmark or hoping to find a job in Denmark? Get the How to Work in Denmark Book for tips on finding a job, succeeding at work, and understanding your Danish boss. It can be ordered via Amazon or Saxo.com or from any bookstore using the ISBN 978-8-743-000-80-8. Contact Kay to ask about bulk purchases, including special orders with your company logo. You can also plan a How to Work in Denmark event with Kay for your school, company, or professional organization.
How to Live in Denmark is the updated version of our very first book based on the popular podcast and the essays you'll see on this site. You can purchase it on Amazon and Saxo.com, or get the original book on Google Play in English, Chinese, and Arabic. You can also book Kay Xander Mellish to stage an event tailored for your company or organization, including the popular How to Live in Denmark Game Show, a great way for Danes and internationals to have fun together.