Join us for the 'How to Live in Denmark Game Show.'! Have fun and welcome international employees to Denmark. Danes will enjoy it too!
We use the format of TV game shows – which are popular around the world – to put participants at their ease and get them interacting with each other. 'How To Live in Denmark Jeopardy' is one of our most popular games, but we also do a Danish version of "Who Wants to Be a Millionaire" entitled "Who Wants to Pay Topskat?" and a "Newlywed Game" take-off in which Danes are asked to examine their own culture…and foreigners are asked to try to understand what Danes are thinking!
How To Live in Denmark events are designed to make international employees feel more comfortable in Denmark, help them understand the Danish mindset, and give them something to chat about with their Danish colleagues besides just 'shop talk.'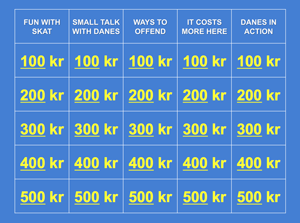 A trained journalist and a former member of the communications staff at Danske Bank, Carlsberg Breweries and Saxo Bank, Kay runs her own communications consulting business in Copenhagen, Denmark. She is behind the podcast series 'How to Live in Denmark' and is the author of the book How to Live in Denmark, available in English, Chinese, and Arabic.
Book Kay for your group
If you represent a corporate or community group and would like to have Kay make a presentation about working in Denmark at your location, please get in touch via this site's contact form for more information. Or read more about Kay's other events.
Read more at www.denmarkgameshow.com.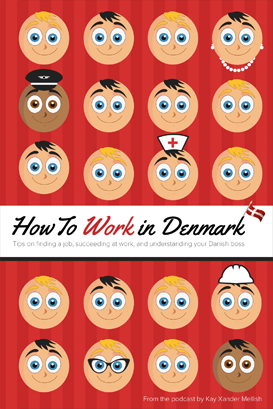 Working in Denmark or hoping to find a job in Denmark? Get the How to Work in Denmark Book for tips on finding a job, succeeding at work, and understanding your Danish boss. It can be ordered via Amazon or Saxo.com or from any bookstore using the ISBN 978-8-743-000-80-8. Contact Kay to ask about bulk purchases, including special orders with your company logo. You can also plan a How to Work in Denmark event with Kay for your school, company, or professional organization.
How to Live in Denmark is the updated version of our very first book based on the popular podcast and the essays you'll see on this site. You can purchase it on Amazon and Saxo.com, or get the original book on Google Play in English, Chinese, and Arabic. You can also book Kay Xander Mellish to stage an event tailored for your company or organization, including the popular How to Live in Denmark Game Show, a great way for Danes and internationals to have fun together.