If you've always wanted to listen to more Danish music, now probably isn't the time: thousands of Danish songs recently disappeared from YouTube due to a copyright dispute.
Music isn't one of Denmark's most famous exports, even when it is available. While Danish housewares and furniture design are popular all over the world, most Danish music fans are local, particularly when it comes to Danish-language rap.
But that doesn't mean Danish music isn't deeply loved by its fans.
The overflowing back catalog of "greatest hits" from the past decades' pop charts will get Danes on the dance floor at any party, particularly if they've been drinking.
You can pick out the internationals in the group by noticing who is still on the sidelines, looking a little bewildered and trying limply to catch the beat.
International breakout acts
A few Danish acts have in fact broken out internationally. Michael Learns to Rock, a 90s soft-rock band, is still hugely popular in Asia. If you're in a dive bar in Thailand or a noodle joint in Shanghai, you might hear these guys crooning in the background.
Christopher, a blond, curly-haired Dane from the much-mocked Copenhagen district of Amager, has become quite successful in China by touring the non-glamorous cities there and building up a fan base. He eventually got a tasty sponsorship contract with Huawei Mobile, which may have paid more than his music ever did.
Mew, Lukas Graham, Mø, and Oh Land are all pop and rock acts that come from Denmark and have achieved international attention over the past decade, and a Danish songwriter was behind Lady Gaga's hit "Born this Way."
And, of course, Aqua's 1997 pop hit "Barbie Girl" is still referenced all over the world. Aqua's Wikipedia entry describes them as "the most profitable Danish band ever."
A good place to be a music fan
Denmark is a good place to be a music fan: most international acts stop here on their tours, and there are a lot of great venues to see smaller local acts.
I particularly like Vega in Copenhagen, a beautiful old wood-paneled hall with great acoustics and an intimate feel.
If you like singer-songwriters, the wonderful high-tech DR Koncerthus in Copenhagen sometimes switches out the symphony with a girl or guy and a guitar. It's worth getting on their mailing list, because tickets sell out quickly.
Aarhus, Aalborg, and Odense also have good local music scenes, and Herning has a big stadium that attracts international acts. One Direction played its last Danish concert there – at least the last one until their inevitable reunion tour.
And, of course, there's always the outdoor Roskilde Festival, in non-coronavirus years, and smaller outdoor festivals like Skanderborg's "Smukfest."
Tivoli in Copenhagen runs popular Friday night concerts that usually feature top Danish stars and somewhat faded international acts. If you like 80s and 90s groups from the US or UK, this is a good place to see them.
Singing is Danish music
Denmark also has a jazz scene – which thrived in the 1960s, bringing numerous African-American musicians to Denmark – and a classical music past. The classical composer Carl Nielsen was the topic of a question on my Danish citizenship test.
But most common way Danes experience music is by singing.
I wrote about drinking songs and children's songs in an earlier blog post on Danes and Singing, but I've since learned that even professional events sometimes begin with a song from the Danish High School Song Book, one of the country's best-selling books for generations.
It's quite impressive to watch your colleagues spontaneously cheer up and sing out in unison an entire set of lyrics they learned during their school days.
Having not attended school here, I do a lot of smiling and nodding along.
The official Danish song book
The Danish High School Song Book was first published in 1894 but is updated regularly. Version 18, which was published in 2006, includes some English and German songs, as well as four songs by the local rock icon Kim Larsen.
Version 19 is due out this year and is scheduled to include a nod to the country's expanding Muslim population, with a song about celebrating Ramadan in Copenhagen's Nørrebro district.
Not yet clear is the fate of a (newly) controversial song, the 1923 Carl Nielsen melody Den danske sang er en ung, blond pige. ("Danish song is a young, blonde girl").
The beloved song – which despite its title, is about Danish landscapes, not Danish women – was the subject of a complaint in 2018 by a female professor at Copenhagen Business School. It was sung before an internal meeting, and the professor found it offensive.
My own Danish music library
Since Danish music isn't on YouTube for the moment, I took the opportunity to go through my own download library and see what Danish music I'd purchased in the days before Spotify and other streaming services.
I found three songs: two by the 2000s-era rap duo Nik and Jay, working-class Danish boys who rapped mostly about the joys of hot girls, and one by Basim, who represented Denmark at the Eurovision Song Contest in 2015.
The Eurovision contest, and its associated programs Melodi Grand Prix and the children's version of Melodi Grand Prix, are an unavoidable part of the Danish music scene. Everyone makes fun of them, but the streets of Denmark are empty on the night the programs are broadcast.
Basim, a cheerful pop singer who is often compared to Bruno Mars, is a Dane of Moroccan origin.
He caused a great deal of astonishment for racists on both the right and the left when, at the very climax of the upbeat "Cliché Love Song", a giant Danish flag dropped down behind him amid a shower of rose petals.
"Because I'm Danish," Basim explained later.
It was very inspirational, in my opinion.
Basim's song – which is probably my favorite pop song to have come out of Denmark – doesn't seem to be affected by the YouTube dispute, so you can watch it now. Check it out here.
Hear all our How to Live in Denmark podcasts on Spotify and on Apple Podcasts (iTunes).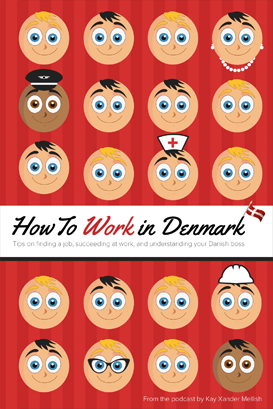 Working in Denmark or hoping to find a job in Denmark? Get the How to Work in Denmark Book for tips on finding a job, succeeding at work, and understanding your Danish boss. It can be ordered via Amazon or Saxo.com or from any bookstore using the ISBN 978-8-743-000-80-8. Contact Kay to ask about bulk purchases, including special orders with your company logo. You can also plan a How to Work in Denmark event with Kay for your school, company, or professional organization.
How to Live in Denmark is the updated version of our very first book based on the popular podcast and the essays you'll see on this site. You can purchase it on Amazon and Saxo.com, or get the original book on Google Play in English, Chinese, and Arabic. You can also book Kay Xander Mellish to stage an event tailored for your company or organization, including the popular How to Live in Denmark Game Show, a great way for Danes and internationals to have fun together.