I came up with the idea for this week's podcast while running. I was running from Sølvtoret, where I mistakenly got off the bus, to Søtorvet, where my business meeting was. Sølvtoret, Søtorvet. Those two places were about 15 minutes away by foot, and it was 10 minutes before I had to be there, so I was moving pretty quickly.
But I was thinking about all the times I still get confused about Danish place names. A lot of names sound very similar to foreigners, although I'm sure to Danes they're quite distinct. For example, the Copenhagen metro has a stop called Ørestad, and one in another direction called Øresund. Ørestad, Øresund. If you don't speak Danish well, two letters difference is enough to get you very, very lost in Denmark.
People's names are tricky, too. I still mess up Lene and Line, and Tina and Tine. And I got in trouble this week for calling a lady named Jytte 'Jette' by mistake. Or maybe it was calling Jette 'Jytte.'
I even have problems with my own name in Danish. My name, Kay, is written the same as a Danish man's name, Kay.  And since 'Kay', otherwise known as 'Kaj' or 'Kai', was a popular name for boy babies in the 1920s, my name tends to be associated with extremely old men.

Hear all our How to Live in Denmark podcasts on Spotify and on Apple Podcasts (iTunes).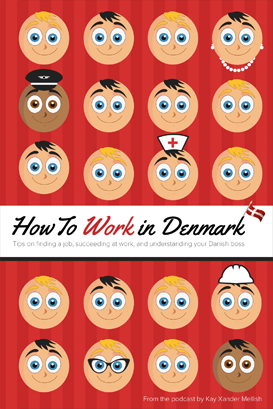 Get the How to Work in Denmark Book for more tips on finding a job in Denmark, succeeding at work, and understanding your Danish boss. It can be ordered via Amazon or Saxo.com or from any bookstore using the ISBN 978-743-000-80-8. Contact Kay to ask about bulk purchases, or visit our books site to find out how to get the eBook. You can also book a How to Work in Denmark event with Kay for your school, company, or professional organization.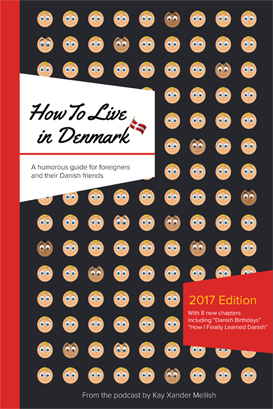 Want to read more? Try the How to Live in Denmark book, available in paperback or eBook editions, and in English, Chinese, and Arabic. If you represent a company or organization, you can also book Kay Xander Mellish to stage a How to Live in Denmark event tailored for you, including the popular How to Live in Denmark Game Show. Kay stages occasional free public events too. Follow our How to Live in Denmark Facebook page to keep informed.

Image mashup copyright Kay Xander Mellish 2021