If you live in city or a big town in Denmark, you may notice that the weekends are getting very quiet just about now.
The streets outside my home in Copenhagen are empty. The streetlights just change from red to green and back again, but no cars ever pull up. Nobody comes to cross the street. It's a little like a scene a movie right after the zombie apocalypse.
This is because all the Danish people have gone to their summerhouses.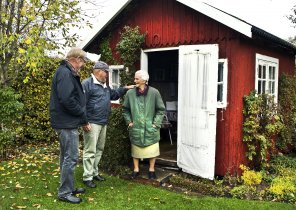 On Friday afternoons, Danish people like to pack up their cars, drive out to the countryside, and spend the weekend in conditions that are sometimes quite primitive. Every summerhouse is different, but most of them seem to have questionable plumbing, odd sleeping arrangements, and chipped dishes and glassware.
The Danish summerhouse is an old tradition – 400 years ago, the government started offering small plots of land to the industrial workers who lived in crowded, sooty slums. The idea was that they could get away into the clean, fresh air on weekends, and grow healthy vegetables.
Fast forward to now, and very few people grow vegetables on their plots. Instead, these small summerhouse plots have become little kingdoms, with neatly clipped hedges all around and lots of lawn chairs and flowerbeds and bird feeders. In the center is a tiny, tiny house – usually not more than 50 square meters, or 400 square feet – where the entire family spends the summer.
This little doll house is almost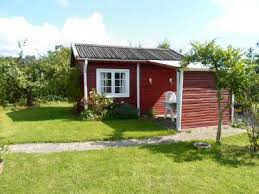 always lovingly taken care of. Freshly-painted wooden facades, sparkling windows, flowery curtains. I've also seen elaborate ones: one near my house has a copper roof, like a courthouse or a cathedral. When I was looking at real estate ads for this story, I saw another one that had been fitted with big white columns like the mansion house in Gone With the Wind.
But as fancy as they are, they are small. There's usually room for one double bed, or a fold-out couch, and then maybe there's a loft where a couple more people can sleep, maybe a porch for one or two more. I would guess that Danish maximum-security prisoners get more sleeping space than ordinary Danes in their summer houses.

Hear all our How to Live in Denmark podcasts on Spotify and on Apple Podcasts (iTunes).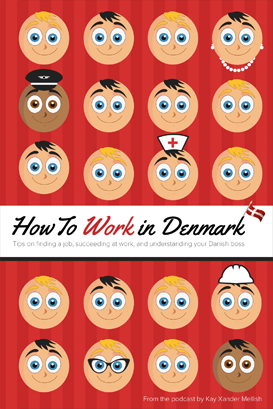 Get the How to Work in Denmark Book for more tips on finding a job in Denmark, succeeding at work, and understanding your Danish boss. It can be ordered via Amazon or Saxo.com or from any bookstore using the ISBN 978-743-000-80-8. Contact Kay to ask about bulk purchases, or visit our books site to find out how to get the eBook. You can also book a How to Work in Denmark event with Kay for your school, company, or professional organization.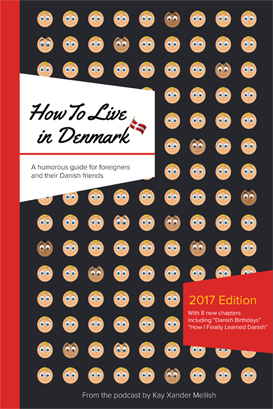 Want to read more? Try the How to Live in Denmark book, available in paperback or eBook editions, and in English, Chinese, and Arabic. If you represent a company or organization, you can also book Kay Xander Mellish to stage a How to Live in Denmark event tailored for you, including the popular How to Live in Denmark Game Show. Kay stages occasional free public events too. Follow our How to Live in Denmark Facebook page to keep informed.

Image mashup copyright Kay Xander Mellish 2021