Everyone suffers a little bit during the winter in Denmark. But I feel particularly bad for people I can see come from warmer climates, and are experiencing one of their first winters here.
In Copenhagen the other day, I saw a pretty young woman – she looked like a newlywed – wearing traditional Pakistani dress. A light chiffon tunic, soft pajama pants, little leather slippers – and then a giant parka over the top. All around her was grey, slushy snow. I got the sense that she was a new bride whose husband hadn't really given her the full story about Denmark and Danish winter. She looked so cold and unhappy.
I also feel bad for the African migrant workers I see here. They're often wearing kind of cool-looking leather jackets, which they probably get when they pass through Italy, and not much else in the way of winter clothing. I sometimes see one of these dark guys fighting his way through a white cloud of windy snow. And the look on his face is not full of love for Denmark.
Of course, immigrants to Denmark adapt to the cold after a while. I think Muslim women have it best, because they often wear a head covering every day anyway.
Danes, on the other hand, often go bare-headed all winter.
Wooly Christmas presents
You see Danish people packed in like wooly Christmas presents, scarves, gloves, coats, waterproof boots, sometimes waterproof trousers – and no hat. Amazing. And it's not just young people.
I see elderly women in fancy fur coats – fur is entirely acceptable in Denmark, by the way – old women in fur coats and expensive leather gloves…walking through the parking lot to their Audi or Mercedes with…no hat.
But there's still a lot to learn from the Danes on how to get through the cold winters.
First of all, if they can avoid them, they do.
Lots of people travel to warmer places during the winter, particularly the Danish Royal Family. When the weather is at its worst, they always seem to have an urgent ribbon to cut in Australia or the south of France.

Hear all our How to Live in Denmark podcasts on Spotify and on Apple Podcasts (iTunes).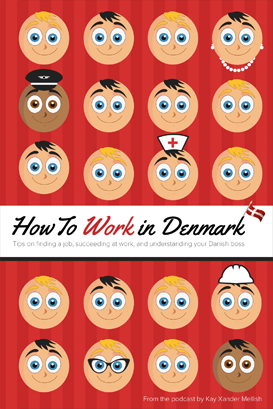 Get the How to Work in Denmark Book for more tips on finding a job in Denmark, succeeding at work, and understanding your Danish boss. It can be ordered via Amazon or Saxo.com or from any bookstore using the ISBN 978-743-000-80-8. Contact Kay to ask about bulk purchases, or visit our books site to find out how to get the eBook. You can also book a How to Work in Denmark event with Kay for your school, company, or professional organization.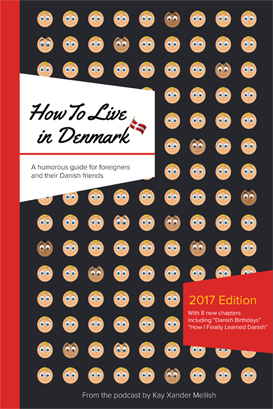 Want to read more? Try the How to Live in Denmark book, available in paperback or eBook editions, and in English, Chinese, and Arabic. If you represent a company or organization, you can also book Kay Xander Mellish to stage a How to Live in Denmark event tailored for you, including the popular How to Live in Denmark Game Show. Kay stages occasional free public events too. Follow our How to Live in Denmark Facebook page to keep informed.

Image mashup copyright Kay Xander Mellish 2021