If you're in Denmark right now, you'll know that we're coming up on the year's longest day this week. June 21. You know it because it starts getting light at 4 in the morning, and the sun doesn't go down until 10:30 or 11 at night and then you're up again at 4 in the morning. In between it never gets really dark, just like in December it never gets very light.
During the dark times, I know that I wait and wait for the light times to come. Sometimes I count – only 3 more months until the light times! Only 6 more weeks to the light times!
When the light times do get here, they're actually kind of annoying. Sure, it's great to have some sun, and I love those long summer evenings, and the green trees, and the wildflowers. But with all that light, it's kind of difficult to sleep.
Everyone I know has blackout curtains and wears sleep masks. They don't always work, though, particularly when it's hot, and people start to get a bit crabby after a few weeks of limited sleep. The fact that it's light until 11pm is great on a Saturday night, but not so great on a Tuesday, when you have a 9am meeting the next day.

Hear all our How to Live in Denmark podcasts on Spotify and on Apple Podcasts (iTunes).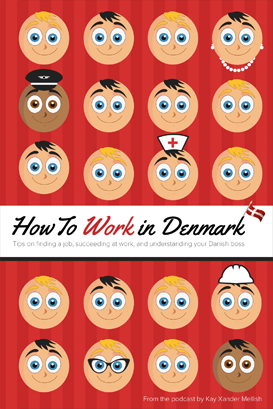 Get the How to Work in Denmark Book for more tips on finding a job in Denmark, succeeding at work, and understanding your Danish boss. It can be ordered via Amazon or Saxo.com or from any bookstore using the ISBN 978-743-000-80-8. Contact Kay to ask about bulk purchases, or visit our books site to find out how to get the eBook. You can also book a How to Work in Denmark event with Kay for your school, company, or professional organization.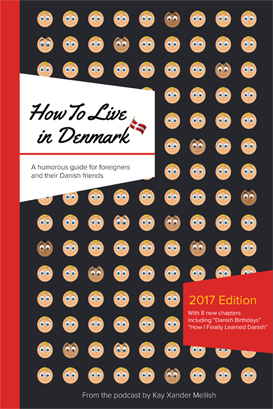 Want to read more? Try the How to Live in Denmark book, available in paperback or eBook editions, and in English, Chinese, and Arabic. If you represent a company or organization, you can also book Kay Xander Mellish to stage a How to Live in Denmark event tailored for you, including the popular How to Live in Denmark Game Show. Kay stages occasional free public events too. Follow our How to Live in Denmark Facebook page to keep informed.

Image mashup copyright Kay Xander Mellish 2021