"Today I have in the studio Kay Xander Mellish, and she's here to talk about her new book, Tips for Danes Working With Americans", announced host Tore Leifer on DR's Radio P1 the other day.
It's always enjoyable to visit the DR studios on Amager – so enjoyable that I didn't mind that Tore had misunderstood the name of the book, which is actually Working With Americans: Tips for Danes.

A lively conversation
Tore and I had a good chat about several aspects of the book, including why it's necessary to act excited and enthusiastic around Americans (otherwise they'll think you're bored), why hierarchy is so important to Americans, and how to make business small talk with American colleagues and customers. Listen to the conversation.
You can purchase the book on Amazon, on Saxo, on Google Play, on iBooks, on Arnold Busck.com, or in our webshop.
Or book Kay Xander Mellish for a "Working With Americans" presentation for your company or organization. Packages including a book and optional audio book for every participant are available.
Photo credit: Kay Xander Mellish 2020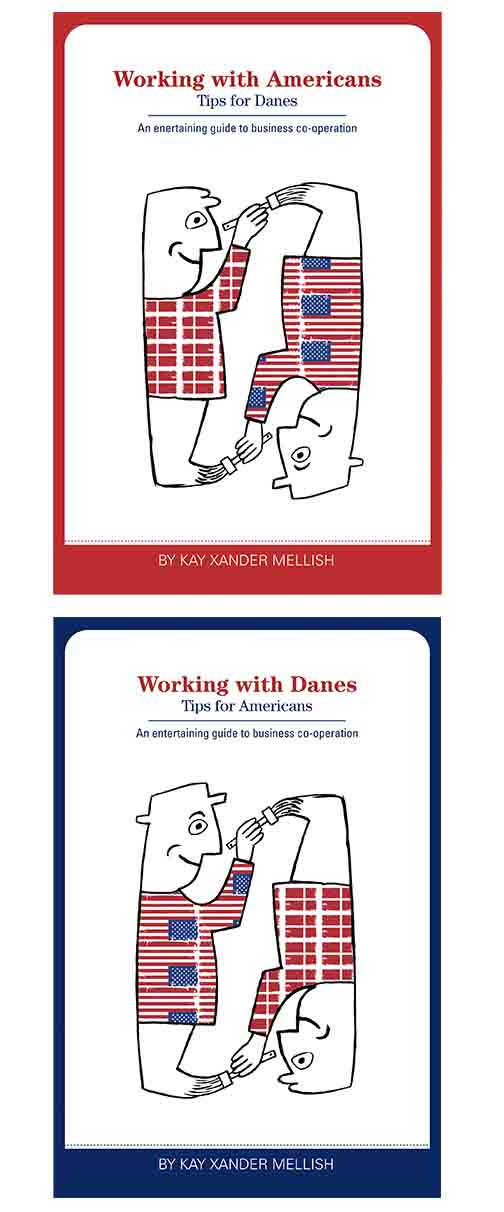 Check out our books! The Working With Americans: Tips for Danes and the Working with Danes: Tips for Americans books are a great way to understand your customers, colleagues, or counterparts on the other side of the ocean a little bit better. Buy either book separately, or choose our fun flip book with "Working with Americans" on one side and "Working with Danes" on the other – after all, isn't it interesting to find out what's being said about your own country and culture? Vist our webshop for links to buy from Amazon, iTunes, Google Play or Saxo.com, or contact Kay directly if you'd like to buy in bulk and get a special price. You can also book an in-person or virtual Working With Americans event with Kay for your school, company, or professional organization in Denmark or the USA.
Show your Danish and American team spirit with our "Working with Danes/Working with Americans" logo merchandise. You can purchase T-shirts or hoodies in a variety of colors and sizes via Spreadshirt, which will send them anywhere in Europe or the US. If you're planning a cross-cultural event, consider a package for team members that includes a T-shirt, paperback book, and audio book. Bulk pricing available – contact Kay directly to learn more.