In an article about whether the Danish reputation for being the 'world's happiest country' helped attract tourists, Politiken asked Kay Xander Mellish what she thought.
»Jeg får mange spørgsmål fra folk i udviklingslande, og for dem er lykkemålingerne ikke så vigtige – de vil bare gerne til Danmark for at tjene godt. Men jeg får også mange spørgsmål fra folk i USA og andre lande, hvor mange i forvejen har det godt, og blandt dem er der stor interesse for, at danskerne er verdens lykkeligste folk«, siger Kay Xander Mellish.
Hun har netop udgivet en humoristisk guide til udlændinge om at bo i Danmark. Hendes forklaring på dansk lykke er, at man i Danmark har tilrettelagt livet, så mange har tid til både job og familie.
»I Danmark har man en balance mellem arbejde og fritid, som man slet ikke har, når man som jeg boede på Manhattan i New York, hvor alle konkurrerer med hinanden om alt fra jobs til lejligheder og kærester«, siger Kay Xander Mellish.
I sin bog 'How to Live in Denmark' gør hun dog også op med misforståelser om danskernes lykke, som mange har.
»Især venstreorienterede amerikanere er meget optaget af, at sundhedsvæsnet og uddannelsessystemet i Danmark er gratis, som de siger. De sætter sig slet ikke ind i, at man faktisk betaler en langt højere skat og moms for at have det på den måde«, siger Kay Xander Mellish.
Read the Politiken article featuring How to Live in Denmark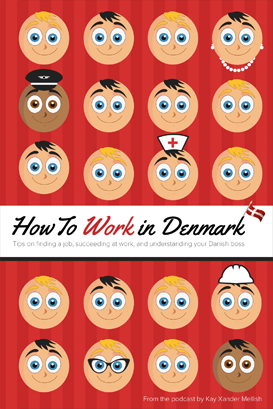 Working in Denmark or hoping to find a job in Denmark? Get the How to Work in Denmark Book for tips on finding a job, succeeding at work, and understanding your Danish boss. It can be ordered via Amazon or Saxo.com or from any bookstore using the ISBN 978-8-743-000-80-8. Contact Kay to ask about bulk purchases, including special orders with your company logo. You can also plan a How to Work in Denmark event with Kay for your school, company, or professional organization.
How to Live in Denmark is the updated version of our very first book based on the popular podcast and the essays you'll see on this site. You can purchase it on Amazon and Saxo.com, or get the original book on Google Play in English, Chinese, and Arabic. You can also book Kay Xander Mellish to stage an event tailored for your company or organization, including the popular How to Live in Denmark Game Show, a great way for Danes and internationals to have fun together.