The How to Live in Denmark project was recently featured on DR.dk, the website of Denmark's national broadcaster DR.
The journalist chose to focus on love and romance in Denmark. Here are a few translated excerpts:
Having lived in Denmark for 15 years, Mellish has noticed that there are special rules for love here.
"Many of the dating mechanisms that work in the rest of the world don't work here in Denmark. No one knows who should take the initiative. Women can't figure out if a man is 'Danish passive' or just not interested."
"Danish men are 'nice boys' that won't go after a girl who doesn't want them. There's very little mystery and a woman simply cannot expect a Danish man to seduce her."
Instead, Mellish has found, romance is facilitated with large amounts of alcohol consumed in the evenings.

"In Denmark, it's easy to find sex, but hard to find love. People drink a lot of alcohol and go home with someone they don't know well, and then figure out the day after if they want to get together for coffee."
Cheating on one's romantic partner is also common, Mellish says.
"I see a lot of infidelity, and I believe that's because in Denmark, everything is so secure. There's no war at the moment, people are financially protected by the welfare state, but you can still be unfaithful! That's still dangerous! In Denmark, people are so open about sex that there is very little 'forbidden fruit.' But forbidden fruit is one of the things that makes sex sexy!"
Read the full Danish-language DR interview featuring How to Live in Denmark. Or read all of our blog posts on dating in Denmark on our dating tag.
Photo: Roman Boed via Creative Commons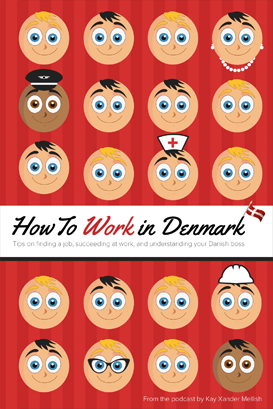 Working in Denmark or hoping to find a job in Denmark? Get the How to Work in Denmark Book for tips on finding a job, succeeding at work, and understanding your Danish boss. It can be ordered via Amazon or Saxo.com or from any bookstore using the ISBN 978-8-743-000-80-8. Contact Kay to ask about bulk purchases, including special orders with your company logo. You can also plan a How to Work in Denmark event with Kay for your school, company, or professional organization.
How to Live in Denmark is the updated version of our very first book based on the popular podcast and the essays you'll see on this site. You can purchase it on Amazon and Saxo.com, or get the original book on Google Play in English, Chinese, and Arabic. You can also book Kay Xander Mellish to stage an event tailored for your company or organization, including the popular How to Live in Denmark Game Show, a great way for Danes and internationals to have fun together.