The "How to Work in Denmark" book is now available!
Working in Denmark comes with a lot of benefits – but a lot of unwritten rules, too.



Why is it so important to take a break and eat cake with your colleagues?

How can you promote your skills in a job interview without breaking "The Jante Law"?

Is learning to speak Danish necessary? Can you succeed in your career without it?

What's the secret to understanding Danish humor at the office?

With its high salaries and good work-life balance, Denmark is an attractive place to work for professionals from all over the world. But the Danish workplace, like Danish culture is a whole, is built on unwritten rules and unspoken expectations.
"How to Work in Denmark", the book, explains some of the rules of the road in the Danish workplace as well as how to find and keep a job in Denmark.
How to buy the book
You can buy the paperback book from Arnold Busck on Strøget in Copenhagen or from Bog og Ide in Frederiksberg Center.
Or order the paperback from our webshop, or from any bookshop using the ISBN 978-743-000-80-8.
You can download the "How to Work in Denmark" eBook from Amazon, from Saxo, from iTunes, or from Google Play.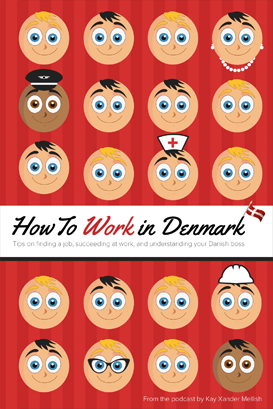 Working in Denmark or hoping to find a job in Denmark? Get the How to Work in Denmark Book for tips on finding a job, succeeding at work, and understanding your Danish boss. It can be ordered via Amazon or Saxo.com or from any bookstore using the ISBN 978-8-743-000-80-8. Contact Kay to ask about bulk purchases, including special orders with your company logo. You can also plan a How to Work in Denmark event with Kay for your school, company, or professional organization.
How to Live in Denmark is the updated version of our very first book based on the popular podcast and the essays you'll see on this site. You can purchase it on Amazon and Saxo.com, or get the original book on Google Play in English, Chinese, and Arabic. You can also book Kay Xander Mellish to stage an event tailored for your company or organization, including the popular How to Live in Denmark Game Show, a great way for Danes and internationals to have fun together.