I don't date much these days – I'm a single mother with a full-time job and weekly podcast – but back in the days when I did date, I occasionally dated online. Dating online is very popular in Denmark. It seems to be where everyone over the age of 25 meets a partner.
One guy contacted me and said. "You know, an American girl broke my heart very badly once. I hope you're not like her."
I never went out with the guy. That's a hell of a history to live up to. And I believe that's why a lot of Muslim guys have trouble dating in Denmark. Everyone knows some girl who went out with a good-looking Muslim and it didn't work out. And you, ordinary Muslim guy, are paying the price for someone else's heartbreak.
Is that right? No. But Danes, like any other nationality, are not immune to stereotypes.
Now, I see this myself, in my daily life. For example, Danes love stories about American right-wing nutcases. Newspapers are full of them. Whenever some Republican fool says something that makes no sense he is guaranteed front-page treatment in the Danish media. Unborn babies have a right to guns! Top of the Danish news.
Those people do exist in the United States but they're like what – 3% of the population? There are 350 million of us – we're entitled to some idiots! But whenever I meet Danes, and they are eager to tell me how much they disapprove of these people.
I'm also told regularly that Americans are superficial. Danes seem particularly upset by the common American greeting 'How ya doin'?' "You know, the cashier at Wal-Mart asked me 'How ya doin'?', but she didn't really care how I was doing."
There are Danish stereotypes about other nationalities as well. Spaniards and Italians are seen as fun and sexy and romantic, but unlikely to arrive on time. Eastern Europeans work too hard, at wages that are much too low, at least by Danish standards. Asian immigrants are seen as OK because they work hard at things Danes aren't really interested in, like high-level engineering degrees.
Danes also have stereotypes about other Nordic people. Norwegians are seen as happy, friendly people with a humorous language. Everything sounds funny in Norwegian because everything sounds like singing.
Swedes are seen as kind of stiff, humorless types who can't dance, and can't hold their liquour. Finns are silent, angry drunks that carry knives. Oddly, given their history, Danes really like Germans. Really, really like the Germans. Many Danes will say that Berlin is their favorite town.
Danes also have stereotypes about each other, something that amazed me when I first arrived here. You have 5 million people, and you're dividing yourselves into groups! But Danes themselves see a big difference between people from Sjelland, the island with Copenhagen on it, and Jylland, the bigger part of Denmark that is connected to Germany.

Hear all our How to Live in Denmark podcasts on Spotify and on Apple Podcasts (iTunes).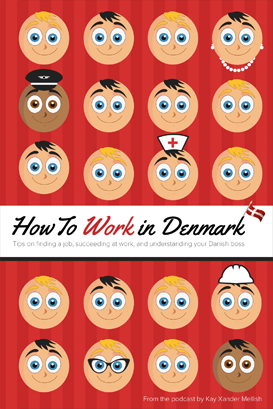 Get the How to Work in Denmark Book for more tips on finding a job in Denmark, succeeding at work, and understanding your Danish boss. It can be ordered via Amazon or Saxo.com or from any bookstore using the ISBN 978-743-000-80-8. Contact Kay to ask about bulk purchases, or visit our books site to find out how to get the eBook. You can also book a How to Work in Denmark event with Kay for your school, company, or professional organization.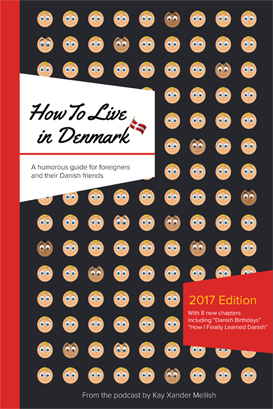 Want to read more? Try the How to Live in Denmark book, available in paperback or eBook editions, and in English, Chinese, and Arabic. If you represent a company or organization, you can also book Kay Xander Mellish to stage a How to Live in Denmark event tailored for you, including the popular How to Live in Denmark Game Show. Kay stages occasional free public events too. Follow our How to Live in Denmark Facebook page to keep informed.

Image mashup copyright Kay Xander Mellish 2021