As part of their series "Hvad er Danskhed" (What is Danishness?) Copenhagen-based Raadio24syv asked Kay Xander Mellish: What is Danishness to you?
Speaking the heavily-accented Danish it has taken her 15 years to learn, Kay tells how she came to Denmark (and how her first employers went bankrupt, leaving her alone in Denmark with a great deal of furniture), and why it can be difficult for foreigners to make Danish friends.
Listen here: https://www.radio24syv.dk/programmer/ak-24syv/12452246/37:10/ak-24syv-16-11-2015-1 (or try this link.)
Asked what it's like to work in a Danish environment, Kay says the culture of constant equality can be good, but can also present some challenges. For example, when meeting a group of Danish businesspeople, it can be difficult to tell who the boss is, and who will be the one to give a final "yes" or "no" to a project. Because of the culture of consensus, no one wants to admit to being the boss, because that would suggest a lack of equality.
She also discusses the connection between Danish drinking habits and childhood candy habits, how she broke the Danish rule of "correct" bread when making her daughter's school lunch, and what aspects of Danish culture she thinks it's most important to focus on on the future.
Kay's 11-year-old daughter Georgia also appears on the show, explaining why her mother is "different" than her Danish classmates' mothers.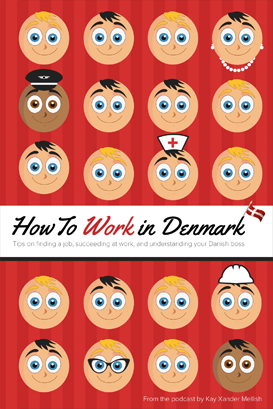 Working in Denmark or hoping to find a job in Denmark? Get the How to Work in Denmark Book for tips on finding a job, succeeding at work, and understanding your Danish boss. It can be ordered via Amazon or Saxo.com or from any bookstore using the ISBN 978-8-743-000-80-8. Contact Kay to ask about bulk purchases, including special orders with your company logo. You can also plan a How to Work in Denmark event with Kay for your school, company, or professional organization.
How to Live in Denmark is the updated version of our very first book based on the popular podcast and the essays you'll see on this site. You can purchase it on Amazon and Saxo.com, or get the original book on Google Play in English, Chinese, and Arabic. You can also book Kay Xander Mellish to stage an event tailored for your company or organization, including the popular How to Live in Denmark Game Show, a great way for Danes and internationals to have fun together.