After a process that seemed to take longer than building the Great Wall, the Chinese version of 'How to Live in Denmark' is finally available, just in time for Chinese New Year. This is the year of the Goat, an auspicious year for creative enterprises. 恭喜發財!
Thanks to my Singapore-based translator, John Zhao, as well as the many Denmark-based Chinese speakers who took time to help me out! I appreciate it.
You can access the eBook version here on the site or via Apple's iBooks store. (Due to an agreement with the Chinese government, Amazon does not support Chinese for Kindle Direct Publishing.) It's also available via the Danish online bookstore, Saxo.com.
A print version of the How to Live in Denmark Chinese version will be available March 1.
Please contact me if you're interested in a volume package to distribute to your student or work organization,  of if you're interested inviting me to China (I would be happy to visit my old colleagues at the South China Morning Post) or having me stage a live 'How To Live in Denmark' event.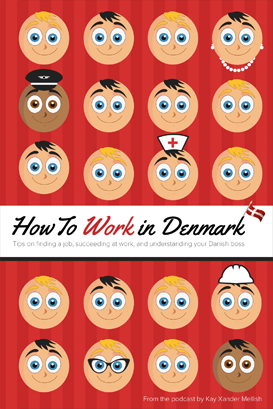 Working in Denmark or hoping to find a job in Denmark? Get the How to Work in Denmark Book for tips on finding a job, succeeding at work, and understanding your Danish boss. It can be ordered via Amazon or Saxo.com or from any bookstore using the ISBN 978-8-743-000-80-8. Contact Kay to ask about bulk purchases, including special orders with your company logo. You can also plan a How to Work in Denmark event with Kay for your school, company, or professional organization.
How to Live in Denmark is the updated version of our very first book based on the popular podcast and the essays you'll see on this site. You can purchase it on Amazon and Saxo.com, or get the original book on Google Play in English, Chinese, and Arabic. You can also book Kay Xander Mellish to stage an event tailored for your company or organization, including the popular How to Live in Denmark Game Show, a great way for Danes and internationals to have fun together.