I do a lot of writing in the lovely, sunny cafe at the Statens Museum for Kunst, otherwise known as the Danish National Gallery.
This museum is free to the public and has a great collection of both historic and contemporary art.
Now I'm excited to say that you can get a paperback copy of the 'How To Live in Denmark' book in English at the Statens Museum for Kunst gift shop.
You can also buy a copy of the book at the shop at Denmark's National Museum, at the Politiken Bookstore on Radhuspladsen, or at Made in Denmark on Brolæggergade 8. It can also be special-ordered from any bookstore in Denmark, although you may have to wait a couple of weeks. It's also available in Aarhus at Stakbogladen near the university.
Not in Denmark? You can get the How to Live in Denmark Book sent anywhere in the world, or download the How to Live in Denmark eBook right now!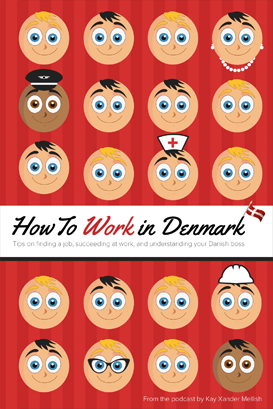 Working in Denmark or hoping to find a job in Denmark? Get the How to Work in Denmark Book for tips on finding a job, succeeding at work, and understanding your Danish boss. It can be ordered via Amazon or Saxo.com or from any bookstore using the ISBN 978-8-743-000-80-8. Contact Kay to ask about bulk purchases, including special orders with your company logo. You can also plan a How to Work in Denmark event with Kay for your school, company, or professional organization.
How to Live in Denmark is the updated version of our very first book based on the popular podcast and the essays you'll see on this site. You can purchase it on Amazon and Saxo.com, or get the original book on Google Play in English, Chinese, and Arabic. You can also book Kay Xander Mellish to stage an event tailored for your company or organization, including the popular How to Live in Denmark Game Show, a great way for Danes and internationals to have fun together.