There's a new mosque opening down the street from me this spring, a big one. It will be the first mosque with minarets in Denmark, although the minarets are legally prohibited from calling to prayer.
The people behind the mosque are doing everything they can to blend in with the local neighborhood – they even went to observe at a local church service a couple of Sundays ago. They were probably the only ones there.
There are a lot of Muslims in Denmark, about 250,000 out of a Danish population of 5-and-a-half million, most of who have arrived here in the past 40 years, or their descendants.
And contrary to what the Danish right-wing parties might say, they've brought a a lot of good things to Denmark, and not just Shwarma shops.
The corner kiosk
Just the fact that corner kiosks exist was a Muslim innovation in Denmark. When I first visited Denmark in 1984, all the shops closed at 5:30 on weekdays and 2pm on Saturdays, and they were closed all day Sunday. If you ran out of milk on a Sunday, you had to borrow from a neighbor or just drink beer until Monday morning. The kiosks run by Muslim immigrants changed all that.
These days, Muslim women in particular have a lot to offer a lot to Danish culture. If you go into any pharmacy in Denmark, you will probably find at least one female pharmacist wearing a headscarf.
I had a similar experience when I did a tour of the Rigshospitalet, Denmark's largest and most prestigious hospital, where all the royal babies are born. In the bloodwork division, where they test blood, almost all the workers were Muslim women wearing headscarves.
These jobs are a way for devout Muslim women to enter the medical field without having to touch men, or see men unclothed. I thought that was great.
As a matter of fact, the statistics show girls from second generation and third generation immigrant backgrounds in Denmark now attain higher educational credentials than ethnic Danes. Now, all those girls are not Muslims, but a lot of them are.
Muslims ask if this is a good place to live
At How To Live in Denmark.com, I get a fair amount of email from Muslims who have write to me, asking if Denmark is a good place for them to live.
It is a good place. All the things that are good about Denmark for other people – that it's a peaceful country, a safe country, a country where you can earn a good living and still have time for your family – are also good for Muslims.
I also tell the people who write to me that, in a multicultural world, it's fair enough to ask the Danes to adapt to and accept different ways of living, but you have to adapt and accept, too.

Hear all our How to Live in Denmark podcasts on Spotify and on Apple Podcasts (iTunes).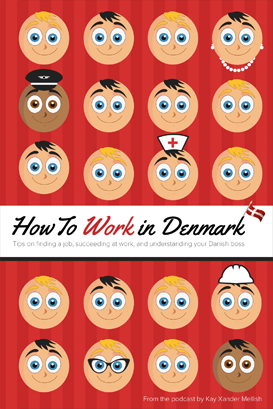 Get the How to Work in Denmark Book for more tips on finding a job in Denmark, succeeding at work, and understanding your Danish boss. It can be ordered via Amazon or Saxo.com or from any bookstore using the ISBN 978-743-000-80-8. Contact Kay to ask about bulk purchases, or visit our books site to find out how to get the eBook. You can also book a How to Work in Denmark event with Kay for your school, company, or professional organization.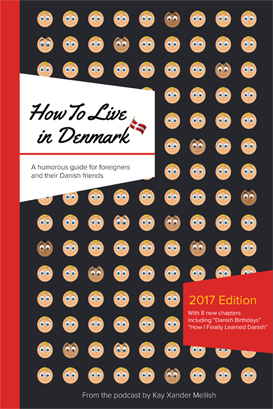 Want to read more? Try the How to Live in Denmark book, available in paperback or eBook editions, and in English, Chinese, and Arabic. If you represent a company or organization, you can also book Kay Xander Mellish to stage a How to Live in Denmark event tailored for you, including the popular How to Live in Denmark Game Show. Kay stages occasional free public events too. Follow our How to Live in Denmark Facebook page to keep informed.

Image mashup copyright Kay Xander Mellish 2021