Ordinarily don't get my technology news from the local newspaper sold by the homeless in Denmark, but I did this week.
First of all, I learned that you can pay your homeless newspaper seller by text message. If you don't have loose change, as I often don't, you can send a text to the newspaper seller's registration number, along with the amount you want to give him, and the seller gets paid right away.
Secondly, I learned that some homeless people in Denmark have iPhones. Not my particular seller, but another reader had written a letter to the editor of the newspaper saying he'd try to buy a paper the previous week, but that his seller had been too wrapped up in his iPhone to pay attention to a potential customer.
The letter writer was asking if it made sense to spend 20 crowns on a newspaper to help a man who had a phone worth at least 2000 crowns.
The newspaper had a good response. They said an iPhone was a perfect device for a homeless person. It allowed him to keep all the information he needed in one place – government documents, health records, family photos. And it was a way for him to get phone calls and emails related to housing or jobs.
I thought that was a very sensible approach.
The CPR is a national menace.
As I've said on other podcasts, the Danes are very practical people, and they use IT for all manner of practical things. For example, there's an app you can get from your kommune that allows you to immediately report things that need repairing around town.
You know, you come across a park bench that's broken, and you just hit the app, send the GPS co-ordinates, and it's immediately reported to the right person. How long it will take them to fix it is another question – it is the kommune after all – but at least it's reported.
Yet, as sensible as it is, Denmark remains invested in the CPR system. As those of you who live here know, the country's IT systems are all based around something called the CPR – the central person register.
Everyone has a CPR number, and you use it for everything – for banking, for the doctor, for school, for taking books out of the library. Lots of people have your CPR, and if they don't, it's pretty easy to guess. Your CPR number is your birthday, plus the century your card was issued in, plus 2 random numbers, plus your gender. Did you know that – men have uneven CPR numbers, and women have even numbers? I did not, until I looked it up.
Anyway, the CPR was probably high tech in 1968 when it was first introduced. But in an age of cybercrime, I think it's now a national menace.
Hear all our How to Live in Denmark podcasts on Spotify and on Apple Podcasts (iTunes).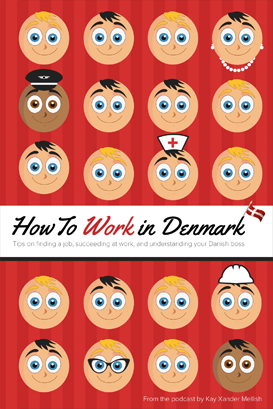 Get the How to Work in Denmark Book for more tips on finding a job in Denmark, succeeding at work, and understanding your Danish boss. It can be ordered via Amazon or Saxo.com or from any bookstore using the ISBN 978-743-000-80-8. Contact Kay to ask about bulk purchases, or visit our books site to find out how to get the eBook. You can also book a How to Work in Denmark event with Kay for your school, company, or professional organization.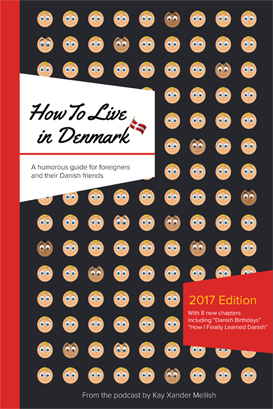 Want to read more? Try the How to Live in Denmark book, available in paperback or eBook editions, and in English, Chinese, and Arabic. If you represent a company or organization, you can also book Kay Xander Mellish to stage a How to Live in Denmark event tailored for you, including the popular How to Live in Denmark Game Show. Kay stages occasional free public events too. Follow our How to Live in Denmark Facebook page to keep informed.

Image mashup copyright Kay Xander Mellish 2021