This is a special episode, because this is the fifth anniversary of the How to Live in Denmark podcast. Hard to believe, I know, but this podcast began in the summer of 2013. At the time I'm recording this, it is near the end of Summer 2018. We've had more than 80 episodes and around a million streams and downloads. Most importantly, I've received a lot of messages from people like you saying that the podcast and the books that have come out of the podcast have been really helpful for you in adjusting to Denmark. I'm so happy to hear that.
For me, one of the best things to come out of the podcast is that I've gotten to see so much of Denmark. As some of you know, I work as a keynote speaker, booked by organizations and schools and companies around Denmark. So over the past 5 years that's helped me get out of Copenhagen and get out of the mindset that Copenhagen equals Denmark, which I think a lot of people suffer from.
"This is what excited looks like"
I've been to Odense and Aarhus and Aalborg, all exciting cities with distinct personalities. I've been to Sonderjylland and seen how much high-tech industry is there. To Ringkøbing and Køge and seen how cute and well-preserved wealthy small towns can be, and to some less well-preserved small towns, I won't name them. I've been to Esbjerg and found out they have a really good art museum, to Kalundborg and seen some of their great World War II artefacts.
I've also got a chance to see how people are different all over the country. I'll never forget bringing the How to Live in Denmark Game Show – which tends to be a loose, fun party game, everybody's happy – to Ikast-Brande in the middle of Jutland. Rural people, very quiet. We played the game, and they seemed mildly pleased but not overly enthusiastic. And I whispered to the organizer – did they like it? And she said, oh yeah, they're really thrilled. They're from Central Jutland. This is what excited looks like around here.
Anyway, when I travel, I'm always asked why and how I came to Denmark, and I explain it to my audiences, but I realized that I had never explained it to my podcast audience. So I thought the 5th anniversary episode might be a good time to do so.
Came to Denmark on vacation
I originally came to Denmark on vacation. I was living in Manhattan in the time, right downtown in Greenwich Village, but I'd been living there for about 10 years and was really ready to try something new. I visited all the hip cities in the US – Atlanta, Salt Lake City, Seattle, Chicago, Austin Texas, but I just didn't find a place where I really felt I fit in.
At the same time, I had a friend living in Paris. We'd meet up and check out different parts of Europe, and one September we thought, OK, why not Copenhagen. It was a beautiful September, warm and sunny, and I thought, well, here's a country with good weather.
But also liked Copenhagen for other reasons. It seemed sophisticated without being too intense. And I really like the bicycle culture. I do have a drivers' license, I like to drive, but I really think it's fun getting around by bike. I liked it so much that I went back to New York, job-hunted online, got a job and was on my way to Denmark just a few months later.
The company I got a job with an internet content company, with treated me very well. They did what was called an executive move, so I was allowed to bring all my furniture with me from New York. That was really nice, but it became a handicap when the company went bankrupt shortly after I arrived. I found myself alone in a foreign country with a lot of furniture. I didn't speak the language, I didn't know many people, and I had all these tables, and chairs, and a couch.
Airline magazines
I did get another job at another internet company, and that company went bankrupt too. And then I was unemployed for a year. And of course, as a newcomer, I wasn't eligible for dagpenge or any of the other unemployment compensation programs. So I lived off my savings, I went to Danish classes, and picked up some extra cash writing about Denmark for airplane magazines. You know, "10 top things to do in Copenhagen on a Rainy Day". And I went to every museum in town on its free day. Seriously, I got a list, and I went to every single one.
I ended up finding a job at Danske Bank, where I was for 8 years, and then I was at Carlsberg for a couple of years, and at Saxo Bank for a year, and then I left to start my own business. I thought I was going to work full-time as voiceover for corporate videos. Turns out I got into the business at exactly the wrong time, when more and more work was being done outside of Denmark. But in order to practice for these voiceovers I hoped to do, I started…..a podcast.
And that's worked out OK. Anyway, after a few months, I started putting the transcripts of the podcast online, where they were very popular. Popular enough that they became my first book, "How to Live in Denmark." Then I noticed that the posts about working in Denmark were the most popular, so that was the basis for my second book, "How to Work in Denmark."
Challenges with sound quality
And now we're here. I really have to thank all of you for supporting the podcast all these years. I know I'm not always consistent with the timing. That's because I have other work and family stuff to do, I'm sorry about that. I'm also sorry about the sound quality – one thing I am not is a sound engineer. I've had more than one very kind reader offer to help me out with the terrible sound. Today I'm lucky enough to be in the studio of one of my favorite professional engineers, Johan Hoyer.
When I came to Johan's studio today, I also brought a file with the podcast's theme music. I discovered after many years that some of you did not that the music is Denmark's national anthem, "There is a lovely country" done in a surf-punk format by a Greek musician names George Glavas. One listener told me he went to a football game with the Danish national team and was surprised to hear them play theme to my podcast and everyone stood up. That was because it's the national anthem, not because they're really big fans of mine.
Anyway, that's the story of how this podcast came to be. Thank you for listening. I'm always open to ideas for podcasts, you can contact me via my website, howtoliveindenmark.com, or on our How to Live in Denmark Facebook Page, or via Twitter at How2LiveinDk – the 2 is a number.
And if you don't want to listen to all the episodes, you can buy the book, it's available at the National Art Gallery and National Museum gift shops. And you can book me for a speech – there are lots of places in Denmark I'd still like to visit, like Ribe and Silkeborg and Randers and Viborg. But booking me for a speech just in Copenhagen is fine too.
And that's the How to Live in Denmark podcast for this week. Thanks for listening: here's to another 5 years.
Hear all our How to Live in Denmark podcasts on Spotify and on Apple Podcasts (iTunes).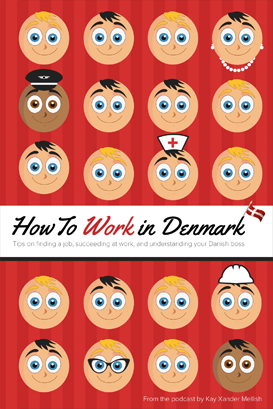 Get the How to Work in Denmark Book for more tips on finding a job in Denmark, succeeding at work, and understanding your Danish boss. It can be ordered via Amazon or Saxo.com or from any bookstore using the ISBN 978-743-000-80-8. Contact Kay to ask about bulk purchases, or visit our books site to find out how to get the eBook. You can also book a How to Work in Denmark event with Kay for your school, company, or professional organization.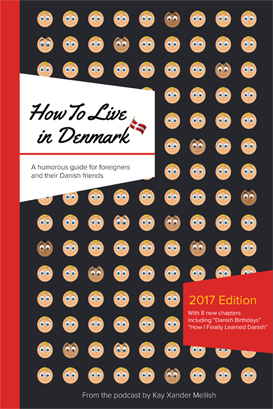 Want to read more? Try the How to Live in Denmark book, available in paperback or eBook editions, and in English, Chinese, and Arabic. If you represent a company or organization, you can also book Kay Xander Mellish to stage a How to Live in Denmark event tailored for you, including the popular How to Live in Denmark Game Show. Kay stages occasional free public events too. Follow our How to Live in Denmark Facebook page to keep informed.

Image mashup copyright Kay Xander Mellish 2021