If you stay in Denmark for longer than a semester or a single work assignment , you, too, may find yourself having children here, as I have. My daughter is now almost ten years old.
It's not a bad thing. Denmark is a pretty good place to raise children. Working hours are shorter, and it's perfectly OK to leave work at 3 or 4 o'clock to pick up your kids. There's a good system for early childhood health. A nurse visits to your home when your child is a baby, and then there are regular checkups with doctor. If your child has the sniffles, you can take off work and stay home with her – the first two days are paid.
And, of course, there's the day care system. It's not free, but it's reasonably priced, and it's nice to be able to drop off your kid in a safe place with trained people while you go to work.
In some countries, there's a lot of controversy about whether very young children should be in day care or at home with their parents. Not in Denmark. 97% of kids go to day care, even the children of the Royal Family. Even the future king, currently known as the eight-year-old Prince Christian, went to day care.
Everyone goes to day care partly because the Danish tax structure means both parents have to go to work.
But Danish day care is also social engineering. It's about creating that equality and community spirit that everyone prizes in Denmark. Day care is the first step in making your child more Danish than wherever you come from.
No elite education, no competition
The Jante Law is part of all Danish education. There's no elite education here, no advanced, or gifted and talented programs. If you child is better than the others at a certain subject, his job is to help the students who are not as good.
If you come from a very competitive society – the US, the UK, China, India – that can be a bit of a shock. There's no competition in Danish education. The kids work in groups. There are no competitive schools you have to fight to get into. There's no standardized testing until the kids are 15 or 16. And there are relatively few tests within the daily school lessons.
In Danish school, your child's social life is considered what's most important. Does she have friends? Can she get along with the other children in the class? Does he like to go to school? Does he fit in?
The idea is that if a child is socially comfortable in school, if he or she wants to go to school, then academic success will follow.

Hear all our How to Live in Denmark podcasts on Spotify and on Apple Podcasts (iTunes).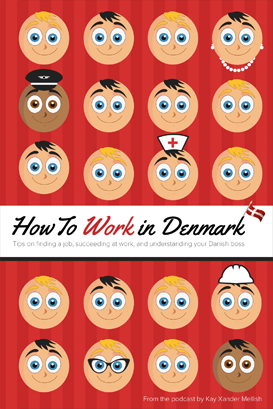 Get the How to Work in Denmark Book for more tips on finding a job in Denmark, succeeding at work, and understanding your Danish boss. It can be ordered via Amazon or Saxo.com or from any bookstore using the ISBN 978-743-000-80-8. Contact Kay to ask about bulk purchases, or visit our books site to find out how to get the eBook. You can also book a How to Work in Denmark event with Kay for your school, company, or professional organization.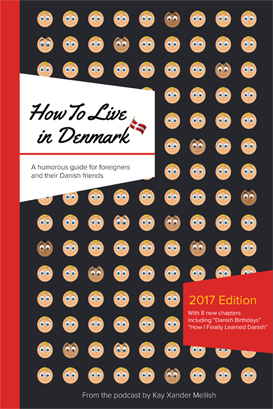 Want to read more? Try the How to Live in Denmark book, available in paperback or eBook editions, and in English, Chinese, and Arabic. If you represent a company or organization, you can also book Kay Xander Mellish to stage a How to Live in Denmark event tailored for you, including the popular How to Live in Denmark Game Show. Kay stages occasional free public events too. Follow our How to Live in Denmark Facebook page to keep informed.

Image mashup copyright Kay Xander Mellish 2021