Christmas-themed wrapping paper and cookies have been for sale in Danish supermarkets for a couple of weeks now, but their appearance on shelves doesn't count as the official start of the holiday season.
The official start is this week, November 1, when holiday drinking in Denmark begins. That's the day local brewer Tuborg rolls out its annual Christmas beer: 'J-day', or 'Julebrug-day'. The Christmas beer is released at precisely 20:59, and everybody hangs out in bars waiting for it to arrive by horse and carriage, some specially dressed in blue Christmas beer hats, Christmas beer neckties, or even Christmas beer bikinis.
Christmas beer tastes a lot like regular beer, a little bit sweeter, and a lot stronger. This is why a man I once knew, who was a bit of a wolf, told me that Christmas beer day was the best day of the year to 'score' with married women. The beer is very strong.
If you're a party person, J-day is not to be missed. If you're a more quiet person, J-day is a good day to be home, with the curtains drawn, and earplugs. If you're a Danish policeman, you'll be on duty that evening, sorting out all the heartbreak, fights and dangerous adventures caused by the Christmas beer.

Hear all our How to Live in Denmark podcasts on Spotify and on Apple Podcasts (iTunes).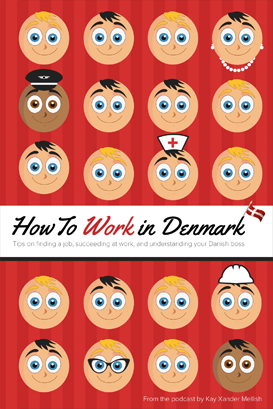 Get the How to Work in Denmark Book for more tips on finding a job in Denmark, succeeding at work, and understanding your Danish boss. It can be ordered via Amazon or Saxo.com or from any bookstore using the ISBN 978-743-000-80-8. Contact Kay to ask about bulk purchases, or visit our books site to find out how to get the eBook. You can also book a How to Work in Denmark event with Kay for your school, company, or professional organization.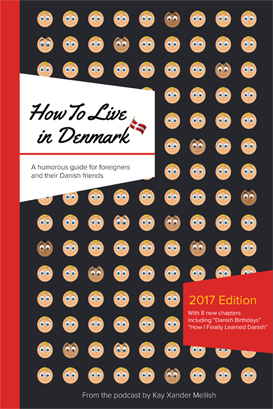 Want to read more? Try the How to Live in Denmark book, available in paperback or eBook editions, and in English, Chinese, and Arabic. If you represent a company or organization, you can also book Kay Xander Mellish to stage a How to Live in Denmark event tailored for you, including the popular How to Live in Denmark Game Show. Kay stages occasional free public events too. Follow our How to Live in Denmark Facebook page to keep informed.

Image mashup copyright Kay Xander Mellish 2021