There was big news this week for foreigners in Denmark. It looks dual citizenship will soon be permitted. Previously, if you wanted to be a Danish citizen, you had to give up citizenship in your home country.
Meanwhile Danes who had moved abroad, say to the US or Australia, and became citizens there had to give up their Danish citizenship.
There's now been a proposal to get rid of all that. It hasn't been finally approved, but all the Danish parties say they'll vote for it, with the exception of our anti-foreigner friends in the Danish People's Party.
Now having been here for 14 years, I will probably apply for Danish citizenship. I realize I'll have to do a lot of studying about Danish history, and learn things like the difference between King Christian the Fourth and King Christian the Seventh.
But that's true of any country. I'm sure people wanting to be American citizens have to learn the difference between, say, George Washington and George Bush.
Carrying the Danish flag
I want to be a Danish citizen for a lot of different reasons. Right now, my 'permanent' residence permit expires if I'm out of the country for more than a year. That could easily happen if I travel, or have a family crisis back in the US.
Also my daughter has no rights here. She was born here, and has only lived here, but she has no residence rights here, or right to attend university here. Under the current law, she'd have to apply for a Danish residence permit when she turns 18, and there's no guarantee she'd get it.
If I'm a double citizen, she can become a double citizen. And if she's a double citizen, it means she can carry the Danish flag in her girls marching band. Right now she's not allowed.

Hear all our How to Live in Denmark podcasts on Spotify and on Apple Podcasts (iTunes).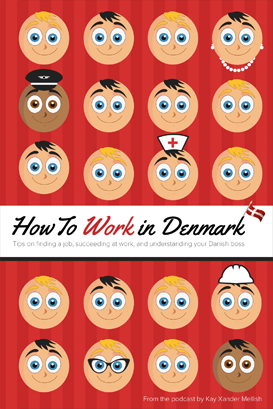 Get the How to Work in Denmark Book for more tips on finding a job in Denmark, succeeding at work, and understanding your Danish boss. It can be ordered via Amazon or Saxo.com or from any bookstore using the ISBN 978-743-000-80-8. Contact Kay to ask about bulk purchases, or visit our books site to find out how to get the eBook. You can also book a How to Work in Denmark event with Kay for your school, company, or professional organization.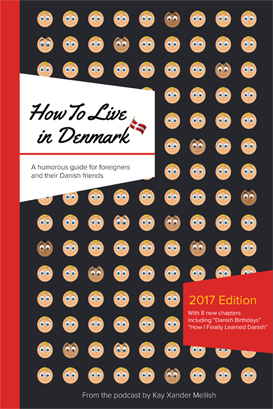 Want to read more? Try the How to Live in Denmark book, available in paperback or eBook editions, and in English, Chinese, and Arabic. If you represent a company or organization, you can also book Kay Xander Mellish to stage a How to Live in Denmark event tailored for you, including the popular How to Live in Denmark Game Show. Kay stages occasional free public events too. Follow our How to Live in Denmark Facebook page to keep informed.

Image mashup copyright Kay Xander Mellish 2021