Dating in Denmark is hard, even for the Danes, and it will probably be hard for you too.
That's because the dating process that works in much of the rest of the Western world doesn't work in Denmark. In most parts of the world, a man will see a woman he likes, and he'll approach her. He'll try to start a conversation. Maybe he'll ask if he can buy her a coffee, or some other type of drink. If they're in a nightclub, he might ask her if she'd like to dance, or maybe go outside and get some fresh air.
Men, these tactics will get you nowhere in Denmark. In fact, they will get you rejected, and then you'll worry that that you're being rejected because you're a foreigner. No. Danes are not good with strangers, any type of stranger. Generally, they don't talk to strangers. They talk to their friends.
I'll tell you how to get around this in a minute.
Things that will get you rejected
But first, let me tell you about another thing that will get you rejected. I'll call it Manhattan behavior, because it was the way people dated when I lived in New York City. Men would tell a lady how much money they made, and how much money they were going to make, how much power and influence they had, and how expensive their watch was.
This will get you nowhere in Denmark. First of all, if you have money in Denmark, the government's going to take it all away. The tax department will have your number, real fast.

Hear all our How to Live in Denmark podcasts on Spotify and on Apple Podcasts (iTunes).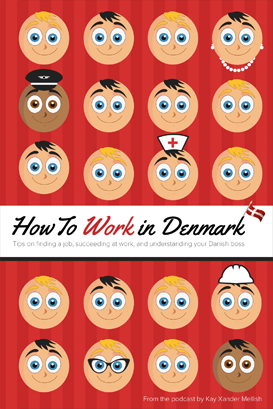 Get the How to Work in Denmark Book for more tips on finding a job in Denmark, succeeding at work, and understanding your Danish boss. It can be ordered via Amazon or Saxo.com or from any bookstore using the ISBN 978-743-000-80-8. Contact Kay to ask about bulk purchases, or visit our books site to find out how to get the eBook. You can also book a How to Work in Denmark event with Kay for your school, company, or professional organization.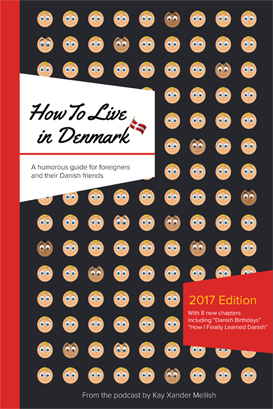 Want to read more? Try the How to Live in Denmark book, available in paperback or eBook editions, and in English, Chinese, and Arabic. If you represent a company or organization, you can also book Kay Xander Mellish to stage a How to Live in Denmark event tailored for you, including the popular How to Live in Denmark Game Show. Kay stages occasional free public events too. Follow our How to Live in Denmark Facebook page to keep informed.

Image mashup copyright Kay Xander Mellish 2021