Danish first names are very strongly stratified by age.
Ole and Finn and Knud and Kaj and Jørn and Jørgen and to some extent Poul and Per, are almost always over 50. Their female counterparts, their wives and sisters and secret lovers, are Inger and Karin and Kirsten and Ulla.
Or Bente. A nearly guaranteed old ladies' name is Bente. There are no young Bentes. Or Bent, the male equivalent. Being named Bent is a problem for Danes who travel, because in many English-speaking countries, 'bent' is old-fashioned slang for 'gay.'
In those countries, if you hold out your hand and say, 'Hi, I'm Bent,' you may get an unexpected reaction.
I once knew a Danish executive named Bent who was sent to work in the UK. While he was there, he called himself Ben – no 't'. He even had 'Ben' put on his business cards.
There's always a Søren
If you're in business, it's good to have these insights about names before you go to a meeting, because you can get an idea who's going to be on the other side of the table.
If it's Søren or Mette you're going to meet with, it's someone mid-career, maybe in their 40s. When I first got to Denmark, I used to joke that you could get into any party by saying "Yeah, I'm a good friend of Søren and Mette" because there was always a Søren and a Mette. Pia, Rikke, Trine, Pernille, Jesper, Steen, Kim, these are the middle-aged, middle-management names of Denmark today.
But if you're supposed to meet with Rasmus or Sofie or Maja or Magnus, you're probably going to be talking to someone young, possibly younger than you, and potentially smarter than you too. These are the names of Danish people in their 20s and 30s.
Heroic baby names
These days the hippest Danish baby names are very old-fashioned, in a Viking kind of way. Valdemar. Gertrude. Holger. Holger Danske is a legendary figure who is supposed to arise from the grave and save Denmark in its difficult moments. The next Holger Danske may be your local day care right now, dribbling organic carrot juice onto his blanket.

Hear all our How to Live in Denmark podcasts on Spotify and on Apple Podcasts (iTunes).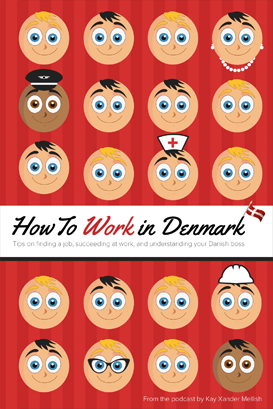 Get the How to Work in Denmark Book for more tips on finding a job in Denmark, succeeding at work, and understanding your Danish boss. It can be ordered via Amazon or Saxo.com or from any bookstore using the ISBN 978-743-000-80-8. Contact Kay to ask about bulk purchases, or visit our books site to find out how to get the eBook. You can also book a How to Work in Denmark event with Kay for your school, company, or professional organization.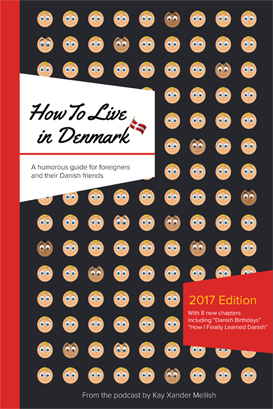 Want to read more? Try the How to Live in Denmark book, available in paperback or eBook editions, and in English, Chinese, and Arabic. If you represent a company or organization, you can also book Kay Xander Mellish to stage a How to Live in Denmark event tailored for you, including the popular How to Live in Denmark Game Show. Kay stages occasional free public events too. Follow our How to Live in Denmark Facebook page to keep informed.

Image mashup copyright Kay Xander Mellish 2021