I've been living in Denmark so long I sometimes lose perspective. I forget what it's like not to live in Denmark. Specifically, I forget that in most countries, adult men and women don't want to walk around in an elf hat, even if it is Christmastime.
In Denmark, the red and white elf hat is part of any Christmas activity where alcohol is involved, and a few where when alcohol isn't involved. Children occasionally wear elf hats, which are called nissehue in Danish.
But you're more likely to see an elf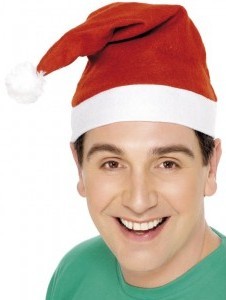 hat on an adult, quite possibly on your boss or your professor or somebody else you're supposed to respect.
Wearing an elf hat as a grown-up in Denmark is the way to show you've got a sense of humor about yourself, that you're up for a party, that you see the fun in Christmas. Or, that you can see any fun in life at all after four weeks of nonstop grey skies and rain during Danish November.
Elf hats will be out in force during Danish corporate Christmas parties. You'll see them on the dance floor, and quite possibly see them two of them making out in the printer room.
Danish corporate Christmas parties get pretty wild, which why movers say their big season is December and January. One half of a couple misbehaves at the Christmas party, and the movers are there the next weekend.

Hear all our How to Live in Denmark podcasts on Spotify and on Apple Podcasts (iTunes).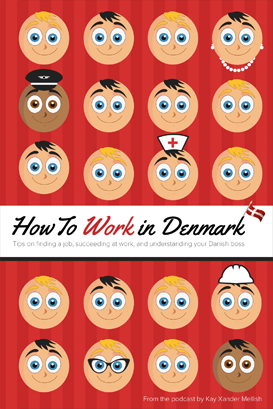 Get the How to Work in Denmark Book for more tips on finding a job in Denmark, succeeding at work, and understanding your Danish boss. It can be ordered via Amazon or Saxo.com or from any bookstore using the ISBN 978-743-000-80-8. Contact Kay to ask about bulk purchases, or visit our books site to find out how to get the eBook. You can also book a How to Work in Denmark event with Kay for your school, company, or professional organization.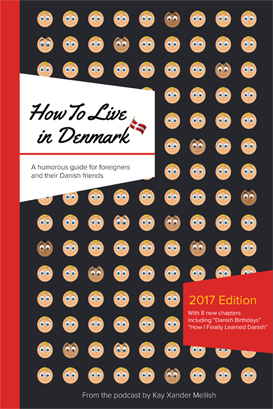 Want to read more? Try the How to Live in Denmark book, available in paperback or eBook editions, and in English, Chinese, and Arabic. If you represent a company or organization, you can also book Kay Xander Mellish to stage a How to Live in Denmark event tailored for you, including the popular How to Live in Denmark Game Show. Kay stages occasional free public events too. Follow our How to Live in Denmark Facebook page to keep informed.

Image mashup copyright Kay Xander Mellish 2021