'The Twelve Days of Christmas' is an old French Christmas song. But those twelve days have nothing on the Danes, who have more than two months of Christmas, and would probably have it last all the way to spring if they could get away with it.
If you're in Denmark, you've probably already seen the Christmas wrapping paper and elf hats hit the shelves, along with the first of the gingerbread Christmas cookies.
A lot of Danish shops put out little dishes of brown Christmas cookies that look like overgrown M&Ms. Pepper nuts, they're called.
Tiny Christmas cookies
You're invited to take one – they're free, and they are very tasty. Pepper nuts mean the two months of Christmas in Denmark have begun.
Actually, the official start to the Christmas season was actually last Friday, when Tuborg rolled out its annual Christmas beer. Christmas beer tastes a lot like regular beer, a little bit sweeter, and a lot stronger. This is why a man I once knew, who was a bit of a wolf, told me that the day the Christmas beer is rolled out was the best day of the year to 'score' with married women. The beer is very strong, and the ladies are guaranteed not to request that you call them in the morning.
There will be a lot more parties and lots of drinking, all the way through to January.
Too late to invite your Danish friends to parties
If you're new to Denmark, here's a tip: Don't invite your friends to get together during the Christmas season. Don't plan a Christmas party, at least not one that includes Danes. Your friends are fully booked, particularly in December, with Christmas work events and Christmas family events and Christmas club events that were planned in August.
Throw a party in January, when everybody's miserable and broke. Then everyone you know will show up, even if all you serve is takeout pizza and leftover Christmas beer.

Hear all our How to Live in Denmark podcasts on Spotify and on Apple Podcasts (iTunes).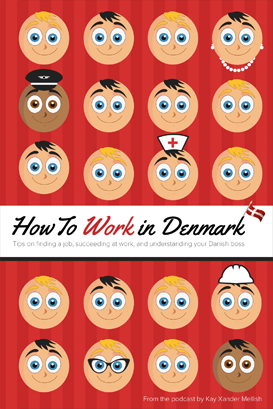 Get the How to Work in Denmark Book for more tips on finding a job in Denmark, succeeding at work, and understanding your Danish boss. It can be ordered via Amazon or Saxo.com or from any bookstore using the ISBN 978-743-000-80-8. Contact Kay to ask about bulk purchases, or visit our books site to find out how to get the eBook. You can also book a How to Work in Denmark event with Kay for your school, company, or professional organization.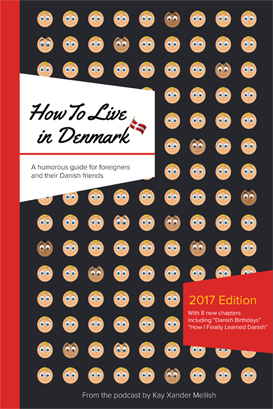 Want to read more? Try the How to Live in Denmark book, available in paperback or eBook editions, and in English, Chinese, and Arabic. If you represent a company or organization, you can also book Kay Xander Mellish to stage a How to Live in Denmark event tailored for you, including the popular How to Live in Denmark Game Show. Kay stages occasional free public events too. Follow our How to Live in Denmark Facebook page to keep informed.

Image mashup copyright Kay Xander Mellish 2021