Copenhagen is a modern international capital city – but in its center, there are no modern skyscrapers.
The tallest building downtown is still the tower on the Danish Parliament, which was built in 1928, followed by the City Hall, built in 1905. A law passed six years ago actually prohibits the construction of new skyscrapers in the central city. Most buildings in central Copenhagen are from three to six stories tall, and the law will keep it that way.
Skyscrapers simply aren't popular here. It may be chic to live in a high-rise or a penthouse in Manhattan, but it's not chic in Denmark.
Satellite dishes on rickety balconies
That's partly because tall buildings have an unhappy past in Denmark. Many multi-story housing projects were constructed after World War II, in that square, concrete, prefabricated style. A few of these projects have been kept up and renovated, but most have not, and they've ended up looking shabby. Often they've become warehouses for poor non-Western immigrants, their satellite dishes dangling precariously from the rickety balconies.
But even fancy tall buildings are not the first choice for wealthy Danes.
Always apartments available in Ørestad
You can see that in Ørestad, which is a new city slowly being built between Copenhagen Airport and downtown.
Ørestad has lots of new, tall buildings, and some of them are apartments. Many were designed by Denmark's best and most creative architects. There's one that has a parking garage that looks like a mountain range, so you can climb up the mountain to get to your apartment. Another is shaped like the number 8, for all you fung shui fans, and still another looks like a porcupine, with a mass of pointed balconies.
Yet Ørestad always has apartments available. There seem to be a lot of recently divorced people living there – it's the kind of place you go when you need to move out and move out quickly.
There are a lot of cold, windy plazas and not much street life. It's not hyggelig – it's not cozy, there's no sense of friends and family there. Some of the tall buildings are beautiful, but they're not very Danish.
Danish people like to live close to the ground. You have to remember that less than 100 years ago, this was mostly an agricultural economy. Danish people like to be near the land.

Hear all our How to Live in Denmark podcasts on Spotify and on Apple Podcasts (iTunes).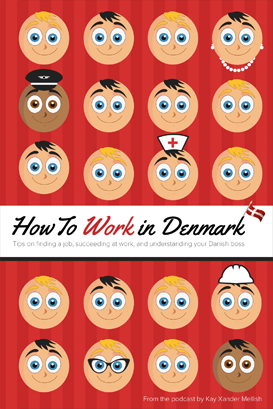 Get the How to Work in Denmark Book for more tips on finding a job in Denmark, succeeding at work, and understanding your Danish boss. It can be ordered via Amazon or Saxo.com or from any bookstore using the ISBN 978-743-000-80-8. Contact Kay to ask about bulk purchases, or visit our books site to find out how to get the eBook. You can also book a How to Work in Denmark event with Kay for your school, company, or professional organization.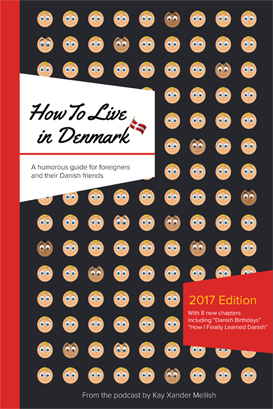 Want to read more? Try the How to Live in Denmark book, available in paperback or eBook editions, and in English, Chinese, and Arabic. If you represent a company or organization, you can also book Kay Xander Mellish to stage a How to Live in Denmark event tailored for you, including the popular How to Live in Denmark Game Show. Kay stages occasional free public events too. Follow our How to Live in Denmark Facebook page to keep informed.

Image mashup copyright Kay Xander Mellish 2021