Kay Xander Mellish's new book on Danish working culture, How to Work in Denmark, has received extensive coverage in the Danish media, including an appearance on the nationally-televised "Go' Morgen Danmark" to publicize the book.
Kay also stopped by the P1 Morgen studios in DR Byen to discuss the book (listen here). She also chatted with Anders Christiansen on Radio 24-7 about the ins and outs of Danish working culture, and appeared with Karen Høgh on her Solopreneur podcast.
The Copenhagen Post, the city's English-language weekly, also about "How to Work in Denmark" and Kay's reasons for writing it. "When I first came to Denmark, I made a lot of avoidable mistakes in the workplace and made a fool of myself on a regular basis. I figured I could help other newcomers avoid making the same mistakes I did," Kay Xander Mellish told the Copenhagen Post.
And Politiken mentioned How to Work in Denmark as part of its series by Dr. Bente Klarlund, a top doctor at the Rigshospitalet. Read more in: Klarlunds klumme: Det er socialt uacceptabelt at sige nej tak til kage.
Jyllands-Posten, Denmark's largest newspaper, published an extensive article about the book featuring an interview with Kay Xander Mellish and a discussion of why she came to Denmark.
Hear all our How to Live in Denmark podcasts on Spotify and on Apple Podcasts (iTunes).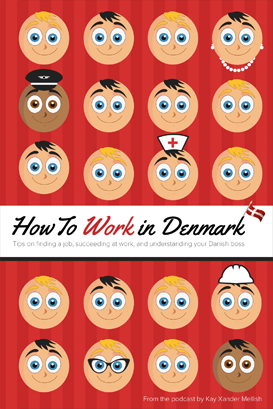 Get the How to Work in Denmark Book for more tips on finding a job in Denmark, succeeding at work, and understanding your Danish boss. It can be ordered via Amazon or Saxo.com or from any bookstore using the ISBN 978-743-000-80-8. Contact Kay to ask about bulk purchases, or visit our books site to find out how to get the eBook. You can also book a How to Work in Denmark event with Kay for your school, company, or professional organization.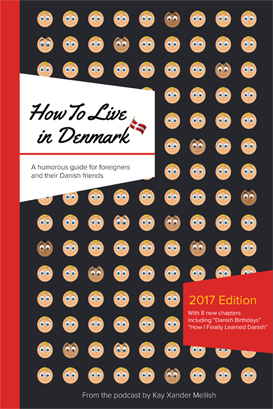 Want to read more? Try the How to Live in Denmark book, available in paperback or eBook editions, and in English, Chinese, and Arabic. If you represent a company or organization, you can also book Kay Xander Mellish to stage a How to Live in Denmark event tailored for you, including the popular How to Live in Denmark Game Show. Kay stages occasional free public events too. Follow our How to Live in Denmark Facebook page to keep informed.