Jantelov and the ability not to take yourself too seriously are a central part of Danish culture. Danes love to laugh at themselves and expect others to do the same – but this can be baffling to people from competitive, hierarchical societies like China, India and the USA.
In this presentation, we discuss how the Danish passion for equality and self-effacing humor can affect the office working environment. How does a foreigner know when a Dane is joking? Are hard truths sometimes concealed in 'Danish humor'? And when and where should you offer the people around you a kvajebajer?
Based on experience
Kay Xander Mellish arrived in Denmark 16 years ago. A former staff member at Danske Bank, Carlsberg Breweries and Saxo Bank, Kay runs her own communications consulting business in Copenhagen, Denmark. She is behind the podcast series 'How to Live in Denmark' and is the author of the book 'How to Live in Denmark', available in English, Chinese and Arabic.
Book Kay for your group
If you represent a corporate or community group and would like to have Kay make a presentation at your location, please get in touch via this site's contact form for more information.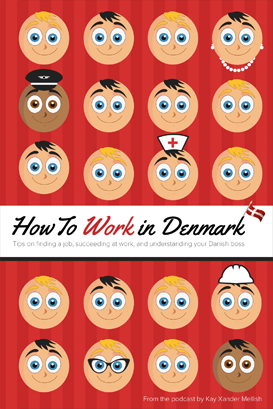 Working in Denmark or hoping to find a job in Denmark? Get the How to Work in Denmark Book for tips on finding a job, succeeding at work, and understanding your Danish boss. It can be ordered via Amazon or Saxo.com or from any bookstore using the ISBN 978-8-743-000-80-8. Contact Kay to ask about bulk purchases, including special orders with your company logo. You can also plan a How to Work in Denmark event with Kay for your school, company, or professional organization.
How to Live in Denmark is the updated version of our very first book based on the popular podcast and the essays you'll see on this site. You can purchase it on Amazon and Saxo.com, or get the original book on Google Play in English, Chinese, and Arabic. You can also book Kay Xander Mellish to stage an event tailored for your company or organization, including the popular How to Live in Denmark Game Show, a great way for Danes and internationals to have fun together.