Working with Danes: Tips for Americans, Kay Xander Mellish's new book, is now available in eBook form.
The print book will be published later in Fall 2020.
Denmark is a great place to do business. Infrastructure is superb, corruption minimal, and the Danes sincerely enjoy a good business deal.
Yet when Americans arrive with their burning ambition and enthusiasm, they sometimes experience tensions with the modest, calm, practical Danes.
This book is a companion volume to last year's popular book, Working with Americans: Tips for Danes.
Working with Danes: Tips for Americans covers aspects like:
How to manage the anti-authoritarian Danes and build consensus

Why your Danish colleagues may undersell their products or skills

What times of year you should avoid for campaigns and launches

Why giving too much positive feedback can be a turnoff for Danes

How transparency and trust is key to negotiating in Denmark

Why you should never say "let's have lunch" unless you mean it

The book also includes tips on dining, driving, and diversity in Denmark, plus tips on what to wear, how to give gifts, and why someone might put a Danish flag on your desk on your birthday.
It also includes a short section with ideas for how to prepare for long-term stays in Denmark.
For the moment, the eBook is available exclusively on Amazon.
Visit our Books about Denmark page for information about all our books, including How to Work in Denmark: Tips for finding a job, succeeding at work, and understanding your Danish boss; How to Live in Denmark: An entertaining guide for foreigners and their Danish friends; and Top 35 Mistakes Danes Make in English.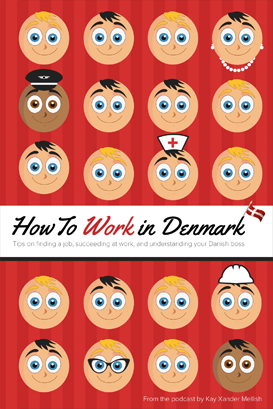 Working in Denmark or hoping to find a job in Denmark? Get the How to Work in Denmark Book for tips on finding a job, succeeding at work, and understanding your Danish boss. It can be ordered via Amazon or Saxo.com or from any bookstore using the ISBN 978-8-743-000-80-8. Contact Kay to ask about bulk purchases, including special orders with your company logo. You can also plan a How to Work in Denmark event with Kay for your school, company, or professional organization.
How to Live in Denmark is the updated version of our very first book based on the popular podcast and the essays you'll see on this site. You can purchase it on Amazon and Saxo.com, or get the original book on Google Play in English, Chinese, and Arabic. You can also book Kay Xander Mellish to stage an event tailored for your company or organization, including the popular How to Live in Denmark Game Show, a great way for Danes and internationals to have fun together.